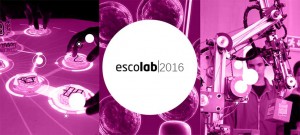 EscoLab is a set of free scientific activities, aimed at students of secondary school (ESO), Spanish baccalaureate and vocational training. These activities open the door to different laboratories and research centers and offer the opportunity to dialogue with researchers working in the advancement of society. It is an initiative of the Barcelona Science Program of the Institute of Culture and the Scientific Culture Program of the Institute of Education of the Barcelona City Council.
From October 2015 to April 2016, EscoLab is offering more than 130 different proposals involving investigators of 55 research groups belonging to universities, science parks, hospitals and companies. The activities consist in workshops and tours to these centers and laboratories, and the proposals include not only the experimental sciences and technology, but also the social sciences and humanities, architecture, business innovation, journalism, early childhood education and sports sciences, among others.
Prior registration is essential and can be submitted as from 7 September 2015. Places are limited.