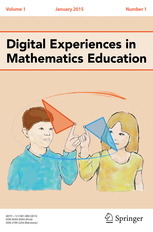 The aim of this journal is to continue the effort to understand and enhance changes in the nature of worthwhile mathematical work that can be performed by learning, teachers and practitioners with digital technologies. It offers a forum for discussing mathematical thought, and issues of equity, cultural diversity and professional development.
The journal is published three times a year. The editorial group comprises professionals from various universities around the world.
On the homepage of Digital Experiences in Mathematics Education people can read selected articles for free, sign up for the Table of Contents Alerts, get to know the complete Editorial Board and find submission information.