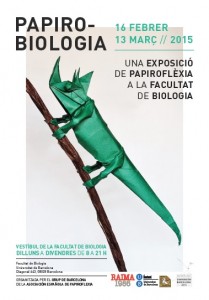 Dinosaurs, insects, amphibians, mammals, birds, reptiles, plants and fungi all created a small scale with the art of papiroflexia, also known as origami. This is the proposal of "Papirobiologia", an exhibition of nearly  two hundred works made by members of the Spanish Origami Association (AEP), an organization that brings together mathematicians, biologists, engineers, geneticists and other experts.
Date: from February 16 to March 13, 2015.
Time: Monday to Friday from 8:00 to 21:00 h.
Location: Ramon Margalef building lobby. Faculty of Biology – University of Barcelona. Av Diagonal, 643, Barcelona.