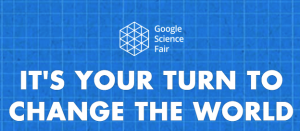 The Google Science Fair is a free and online science competition open to students ages 13 to 18 from around the globe. There are two age groups, 13-15 and 16-18.
Students sign up for the Science Fair with a free Google account at the website. They'll then carry out a test or experiment on a subject they're passionate about, and submit their project online. Projects or experiments can be conducted in several areas, such as: natural science, computer science, mathematics, technology, engineering, space science, physics, environment, health, natural resources, among others. If the students do not have an idea, the website provides many resources and tools in order to develop a scientific project.
The top 20 students, or teams, will be invited to the finalist event at Google headquarters in Mountain View, California, USA. Here they'll get to present their work to a group of distinguished scientists and tech innovators.
Submission deadline 19th may, 2015 at 9:59 CET (Central European Time) 
Learn more www.googlesciencefair.com/en/