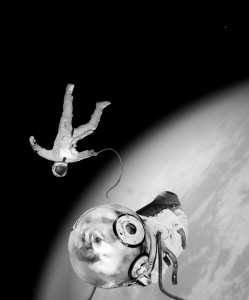 The Sputnik Foundation it is proposed to clarify many episodes of the soviet space program. One of the most intriguing is the epic of the Soyuz 2. This spacecraft was launched on October 25, 1968 with Colonel Ivan Istochnikov and dog Kloka on board. With the currently available data, the Foundation has brought together various pictures and materials that allow more complete reconstruction of this odyssey.
The exhibition consists of a collection of photographs and quite curious objects, like a bag to collect urine in a position to ingravitación, fork and opener that were used on August 6, 1961 by Gherman Titov, the first man who ate in space and second Soviet cosmonaut, autographed photographs, journals, technical drawings, diagrams and personal papers of cosmonauts.
This exhibition has been produced by the Moscow Sputnik Foundation. The current presentation in CosmoCaixa was coordinated by Professor Joan Fontcuberta, Sputnik Foundation representative in the European Union.
ACTIVITY OPEN
Date: February 21 to May 31, 2015
Time: from 10.00 to 20.00
Location: CosmoCaixa Barcelona. Isaac Newton, 26, Barcelona 08022